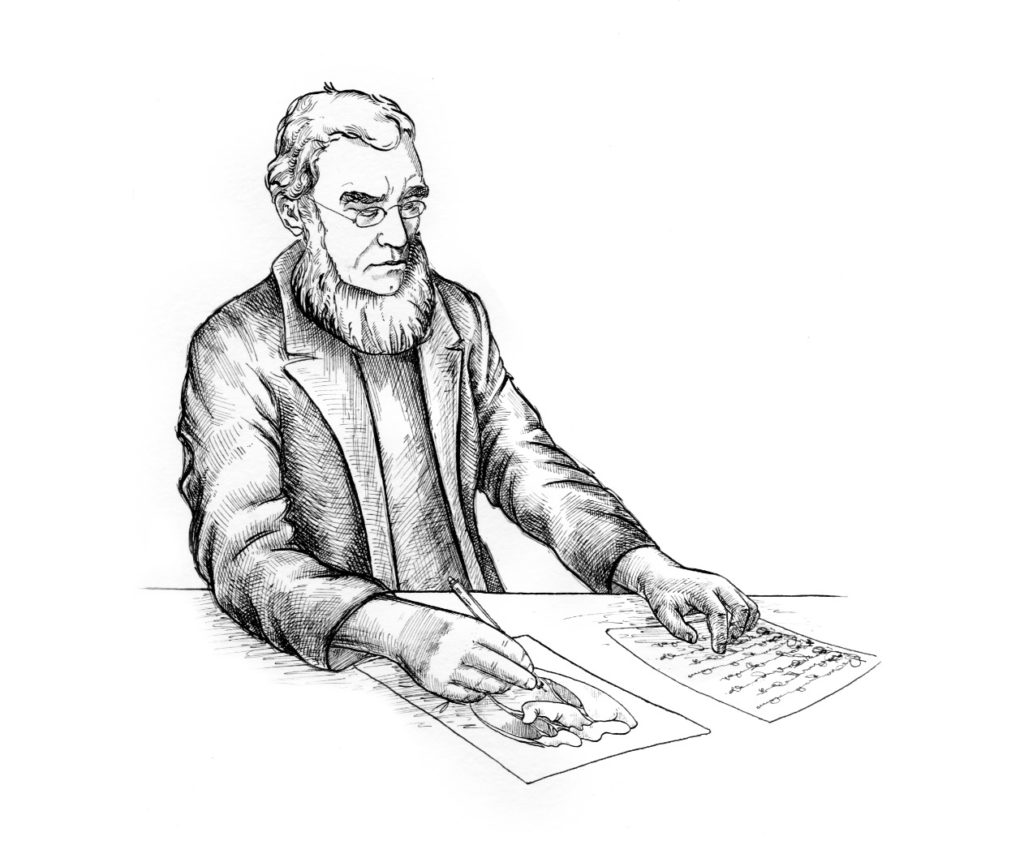 Dear ________, 
My name is S.F.Kislev. I've searched for scientific illustrators online and found your work, which I like. Are you available for commission work?
The work is unusual. I have in mind visions of organic beings. I've attempted to describe them in as much detail as I can. Here, for instance, is a description:
SAMPLE DESCRIPTION
Can you please draw this being for me? While I can describe it in detail, I am not skilled enough to draw it myself. You can draw an external view, and internal view, with or without cross-sections, with or without stippling, etc; whatever you need to best translate the description.
The illustration has to be done by hand, with ink, on nice paper. The size doesn't really matter, but I think something like A4 works well. If you agree, the process will be simple: you'll do a rough sketch, I will ask questions and make specific comments, and when we agree you will ink the illustration. 
I know this is an odd request. I hope you find it interesting. I'm looking forward to working with you on realizing these visions, which come to me in my sleep.
Respectfully,
S.F.Kislev, Freddy2000@gmail.com
Angeline Khounlo is a young scientific illustrator from Iowa, USA. Her family is originally from Hawaii.
José Fabricio Vargas is a scientific illustrator and biologist, born in Costa Rica.
Maxwell Yeager  is a medical illustrator. He lives in New York State, USA. and is a member of the American Association of Medical Illustrators.
Martin Mak is a scientific illustrator from Argentina. His formal training had been in Spain, sponsored by the Catalan Association for Science Communication (ACCC).
Daleen Roodt is a botanical illustrator from Pretoria, South Africa. She specializes in illustrations of African orchids in their natural habitat.
Mona Luo is a scientific illustrator from Santa Barbara, California. Her particular expertise is parasite illustration.
Hanna Tamsalu is an illustrator from Tallinn, Estonia.
Caitlin Rausch  is a biomedical illustrator from northern Illinois, USA, and a former researcher at the Michigan State University's cadaver lab.
Lesley Deysel is a young scientific illustrator living in South Africa.
Elyssa Siegel is a medical illustrator from the United States, specializing in surgical illustrations (dissections). She works as an illustrator at the Goodman Campbell Brain and Spine, in Indianapolis, Indiana.
Katelyn McDonald is a biological and medical illustrator, a graduate of Johns Hopkins University. She lives in eastern Iowa, USA.
Paula Marcantoni is a lecturer on scientific illustration and etching at the National University of La Plata, Argentina.
Germán Ramírez is an architect and animal illustrator, living in Bogotá, Colombia.
Vyacheslav Saenko is an illustrator from Kharkiv, Ukraine. He descends from a long line of entomologists.